Today the most popular types of crosses for drugstores are LED pharmacy crosses. They are subdivided on:
LED crosses with internal illumination (as a rule such types of crosses have one program animation, just dynamically blink with a certain recurrence or at all work statically).
Such types of pharmaceutical crosses, in the majority, are highlighted by a group of LED clusters on SMD crystals, and their front surface – the colored acrylic glass or dairy glass tinted by light-scattering films;
VSTAR LED crosses with open pixel illumination which programming depends only on the imagination of the customer or the performer and has practically no borders. Such VSTAR LED crosses are carried out by the method of a pinout of a group of the output LED on a certain scheme then control of groups is exercised by the microcontroller thanks to which operation the dynamic bright luminescence of pharmaceutical crosses ground under the attraction of a look of passersby turns out.
The LED sign over an entrance is the integral attribute of modern business. Depends on it, the potential buyer will come or not. A few years ago this issue could be resolved by the purchase of the ordinary lightbox. But progress does not stand still, and they were succeeded by universal video signs on the basis of our modern VSTAR LED technologies. LED signs of VSTAR Company significantly surpass light boxes in terms of functionality and drawing attention.
The drugstore has to be allocated against the background of supermarkets, boutiques, and other outlets. It is not easy to shop, and the place which directly affects human health.
According to the rules which regulate trade in medicines and other products of a medical appointment, obligatory installation on pharmaceutical institutions, their structural divisions of the alarm index executed in the form of a green cross is provided. Taking into account these innovations the VSTAR LED pharmacy cross is an integral part of advertising registration of modern drugstores. LED Pharmacy crosses demand power supply on such cross of 12 volts, a direct current. For these purposes use sources of the stabilized tension (it can sound as led power supply).
The LED controller is intended for obtaining any effect of modulation and blinking of light-emitting diodes. Operates groups of light-emitting diodes on four or eight control paths independent from each other. Programming of the controller is carried out with the help of the personal computer through the USB port by means of a special cable.
VSTAR Led pharmacy crosses are intended, mainly, for external application. They are established near an entrance to the drugstore so that they could be seen from far away on both sides. Our VSTAR LED cross for drugstore can be unilateral or bilateral. The most popular product is the green cross for drugstore. It is pasted over with a film of green color and highlighted by means of the green light-emitting diodes located in design from within. Also often order a pharmaceutical cross with a snake. The image of a snake is made of a film in green or white color, highlighted by light-emitting diodes (LED).
Due to that, a source of light is used open diodes (pixel) here, such cross is perfectly noticeable both in the day-time and at night.
VSTAR LED pharmacy cross display is a sign that will distinguish you among a competition. Reflection of promotion actions, advertising with different producers of medicines, information about work hours, congratulations and absolutely any useful information.
VSTAR Green cross led sign looks very effectively, and its light dynamics is neat so that maximally attract clients to your drugstore. If you want to change the program of light dynamics, you will be able to make it with the help of the control panel in which corresponding programs are put. In VSTAR led pharmacy cross displays are used diodes of the increased brightness. Uptime and unique low energy consumption do this product exclusively favorable in exploitation.
A pharmacy-led sign is a bright, attracting attention signboard, capable effectively to designate the location of pharmacy on the outside city at any time twenty-four hours. The setting of VSTA Outdoor advertising led display gives an excellent opportunity to cut down advertising expenses: bright and noticeable at any time and under any weather conditions the led-construction will bring over to the pharmacy of potential buyers and will be noticeable to not only the pedestrians walking along the street but also to the automobilists passing by.
10 key reasons for using VSTAR led pharmacy crosses are the following characteristics:
The original design distinguished and recognizable against the background of other signs;
Dynamic effects and super brightness;
On LED blocks any additional information interesting to clients can be displayed: working hours of a drugstore, a logo of the firm, information on actions and bonuses, news of the company in a format of "running line", value meteorological – the air temperature, humidity;
Lightweight, durability, compact sizes;
Ergonomics;
Simple installation, fast installation of a design;
Lack of need for regular maintenance;
The maximum noiselessness during the work;
The affordable price of production;
After an interruption in supplying with energy, a cross will begin to work, representing the last animation.
The advertising VSTAR LED signs made in the form of the world known medical symbol like a cross, is graduated on several main versions:
Monochrome that is signs of one color. Most often green;
The design can be three-colored or full-color.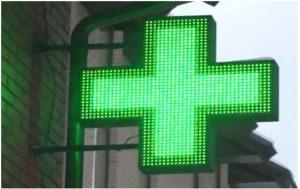 VSTAR LED crosses are with static picture where light-emitting diodes on the set contours of drawings or multimedia which with the help of specialist programs and controllers tell on the surface the multimedia picture by more than 250 ways of display – that in terms of appeal to consumers many times more interesting blink and for networks of drugstores is more effective.
You can change the brightness and frequency of dynamic luminescence and also choose a few modes. VSTAR Led pharmacy crosses are made from the panels of polyvinylchloride or acrylic, composite materials.  In the initial stage of production out of the reinforced metal durable framework is made with brackets for fastening to the surface. On this framework external panels giving a signboard attractive original appearance and providing constructions reliable protection from the action of negative factors of the environment become stronger: moisture, dust, and sharp overfalls of temperature.
The LED pharmacy cross is established in an internal part of the design together with the processor of management. After installation of a design on certain place lines of the power supply is brought to it. The control panel is mounted by outdoor advertising in the drugstore. Using the software of the led-luminescence in light and dark time is possible to choose Pharmacy led sign operating modes, brightness, and saturation, to update and supplement information which will be output on a LED board.
Pharmacies on the streets of cities are opened constantly, therefore in the field realization of medicinal preparations a competition isn't simply high – it is enormous. You can say how to bring over the attention of potential consumer of commodities and services? The best method to declare about itself without superfluous charges is a bright and noticeable from far away VSTAR Led outdoor advertising signboard as a known worldwide medical symbol – Cross.
According to marketing specialists, at the advertising media creating the illusion of the infographics movement, there are more chances to draw attention and to be remembered, than at static. And as the electronic VSTAR LED pharmacy cross for a drugstore for 100% combines all opportunities of a full-fledged illuminated sign with various dynamics, so you can learn in the truthfulness of the above-stated statement by own experience!
Why is it needed to choose a signboard exactly as a symbol of medicine – VSTAR LED pharmacy cross? Because a super bright LED advertisement will give to the proprietor of the drugstore the following advantages and reasons:
Says to the consumer clearly that in the building is located the drugstore, but not some other shop. Statistics says that most  the buyers try to find drugstore on city streets by the sign in the form of a cross;
The noticeable and bright sign besides designation of location about the pharmaceutical point can tell t the consumer about its discounts, low prices, actions which are carried out in drugstore.
At the request of the client LED elements in design it is possible to arrange in several rows at the edges of a frame part, but also diodes can fill a framework entirely that will make a pharmacy cross the brightest and noticeable. The brightness of a luminescence of the Pharmacy led sign is adjusted by means of the controller.
Health for the person is above all. The appeal to drugstore buying necessary drugs, ointments, bandage, and tablets is an everyday occurrence. How to attract a lot of visitors to services is possible? Comes to the rescue, developed especially for drugstores, VSTAR led pharmacy cross.
VSTAR LED pharmacy cross is tested and reliable advertising carrier, the effect of which is shown AT ONCE. Dynamics and brightness attract visitors (the flow of new buyers' increases by 14-16%). It is the modern advertising carrier having possibilities of an illuminated sign with various effects.
The brightness of a green cross led sign will not allow the buyer to pass by your drugstore and moreover – noticeable advertising is always more attractive to the consumer than the usual advertisement. People in 90% of cases will choose chemist with the bright green gross sign even if on the same street other chemists shop points will be located.
It should be noted that each enterprise, in the independence of its form of activity, needs high-quality advertising that provides it inflow of clients. Pharmaceutical business in this captivity is not an exception of the rules and though there is an opinion on what medicines will buy until there are diseases. In many respects, the success of advertising depends on performance quality and appeal of promotional products which have to bear useful information and be a peculiar face of a trade institution.
It is possible to carry to additional options of VSTAR Led pharmacy crosses the built-in hours and an indicator of external temperature. In general, we recommend complementing not only pharmacy crosses but also usual friezes and signs with this simple, but very functional option. Thus, your advertising becomes not only bright and draft, but also just useful. The outdoor design of the advertising sign depends on 2 major factors — professionalism of masters and quality of the material. Cheap and not qualitative signs for 1-3 months considerably burn out, some light-emitting diodes lose brightness or at all cease to work. Choosing a material for the production of the shining LED pharmacy cross, it is necessary to consider where the sign will be placed.
FOR THOSE WHO ARE READY WILL GO DEEP INTO PRODUCTION WE SUGGEST TO CONSIDER STAGES OF CREATION OF THE VSTAR PHARMACY CROSS ON THE CONCRETE ORDER
Production of VSTAR LED pharmacy crosses can be divided into the following stages:
creation of the design layout of a cross;
milling of details;
pinout of light-emitting diodes and controller;
assembly and obligatory testing
High-quality packing and sending to the Customer.
The principle filling of a VSTAR led pharmacy cross is strictly individual for each model.
Milling of openings in the front panel is carried out on determined by the vector model, that is why all products have an amiable, equal view. Openings under VSTAR LED are evenly placed by the computer program and then milled on the machine. After incrustation of light-emitting diodes in the receiver openings, the process of their soldering by the qualified specialist by means of the soldering station is carried out. Always the most effective ratio of brightness of the LED and current consumed by them due to that, what product of consumption energy in the greatest bright efficiency is minimized.
Our VSTAR Pharmacy led crosses are the symbols of clear without any words, even children can decipher them. VSTAR Pharmacy led crosses are different. You can choose any size. The conditions vary from 400 mm to 1200 mm. The most widespread standards signs: 50 x 50 cm, 70 h70 cm and 90 x 90 cm.
If you have Pharmacy cross display projects, please contact us without hesitation anytime. Thanks in advance.