An LED display is a screen display technology that uses an LED panel as a light source. In this type of display, an LED panel consists of several LEDs. LEDs are known to produce more light and greater light intensity than other light-emitting sources. LED displays are used in a large number of small and large electronic devices as user interfaces.
In recent years, LED displays have developed rapidly, mainly due to their high brightness, low forward voltage, low power consumption, ease of mass installation, long life, impact resistance and stable performance, among many other advantages. Depending on their type, shape and size, LED displays can be divided into many categories.
Types of LED displays
Outdoor LED displays are a popular medium for carrying commercial advertising and various types of information for the public. They are highly visible and can be easily fixed to different kinds of structures such as buildings, hoardings, shop windows etc.
Indoor and outdoor displays. For indoor environments, the brightness of the display is required to be moderate. As these displays will be viewed from close up, they have a wide viewing angle. They are also very light and have a high density. For outdoor displays, the pixel density is relatively diluted and the brightness requirements are different because of the different viewing conditions at night and during the day. In addition, these displays need to be seen at greater distances. Display cabinets should be able to withstand environmental conditions such as wind, rain and lightning.
Semi-outdoor displays (placed in a mixture of outdoor and indoor environments) are ultra-bright and can be used in sunlight, although not directly. In this case, the display body is sealed and usually installed under the eaves of a building or in a window.
Displays are available in monochrome, bi-primary and tri-primary colors. Monochrome displays are based on illuminated materials, most commonly a single red color and, on some special occasions, yellow and green. LED displays with dual primary colors are made up of red and green LEDs.
Synchronous and asynchronous displays. Synchronous is the mode of operation of an LED display, which is similar to a computer monitor. It can display many greyscale colors and can achieve the desired effect for multimedia advertising.
In asynchronous, the LED display can store and automatically play characters and non-grayscale images. The images are edited in the PC and transferred to the LED display (where they get played back automatically) via a serial or another network interface. As a rule, it does not display many greyscale colors and is mainly used for displaying characters.
Types of displays by performance
This is a full-color LED display screen. It can display videos, animations and other video files.
Digital Poster display: 
This is a seven-segment digital tube for clock displays, rate screens and other digital displays.
LED lattice image-text display. This lattice display module is made up of a number of LEDs arranged in an even number. Conventional LED displays. These usually require a steel structure to mount the LED display in a specific place. They include outdoor, large, single-row LED or double-row LED displays. Typically, they are used to display traffic information at bus stops or railway stations.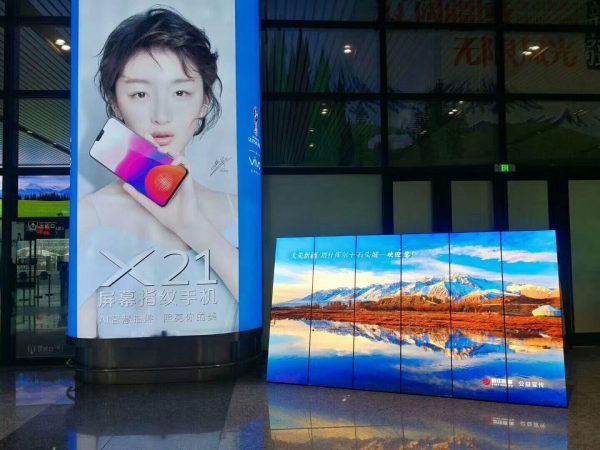 (www.ledvstar.com/product/led-poster-display/)
Rental LED displays:
When designing these displays, installers take into account the fact that such displays need to be replaced frequently. Therefore, their left and right cabinets have a quick-locking feature to ensure accurate positioning. The entire display cabinet can be installed in as little as ten seconds. Rental LED displays are typically used in performance venues, large holiday parties and wedding celebrations.
Commercial LED Displays:
This type of LED display is popular in buildings such as shopping malls. It is linked to a distributed control system to enable the display of speed, flow, temperature, pressure, etc. in an industrial environment.
Wall-mounted and roof-mounted fixed outdoor LED displays:
These displays are mounted on buildings and have an aluminum laminate covering the perimeter of the waterproof cabinet. These displays are used when the information they carry requires extensive coverage; therefore, they are usually sized to fit on top of a building.
Outdoor curved LED display :
These displays are designed to conform to the shape of the building. The inner curved LED displays are suitable for smaller audiences, while the outer curved LED displays are suitable for a larger audience viewing experience. The latter is better than a flat display as it has a wide viewing angle and can be seen from multiple directions.
Outdoor double-sided and triple-sided LED displays: 
These displays are mainly used on streets, public roads or motorways.
Outdoor Round LED Screen:
These are innovative LED displays that use custom-made modules to assemble unique designs. Outdoor Round LED displays can be used in more than one display window to show multiple media advertisements that can be viewed by the visitor at 360°.
Transparent LED Screen: 
In today's market, we can see many brands with transparent displays outside their doors, which are designed to broadcast promotions or new product advertisements to attract more customers. It can be installed both inside and outside the home and is so transparent that even if it is installed, from a distance it is hardly noticeable that it has been installed.
LED Pharmacy Display : 
In the Irish market, we can see that 87% of pharmacies have installed this product, which is very popular and a hot buy, adding even more colorful light to the city of Ireland.
We can customize the size of your project so you don't need to worry about any installation issues and we have a professional after-sales team on hand to help you.
We have any other creative led displays. please feel free to contact us if you're interested in them. thanks for reading this article.